WSV - Welcome
Bringing volleyball to Weymouth on Wednesdays
This website is for "Weymouth Social Volleyball"
WSV - One week to go to the 22/23 Season!
WSV's 22/23 Season will return to normal with a single league followed by an Open Tournament to bring competitive volleyball to as many as possible.
We welcome teams and players of any standard.
URGENT - Team Application - Places are going fast…. See below.
We have secured even more court time this year to allow more play for everyone.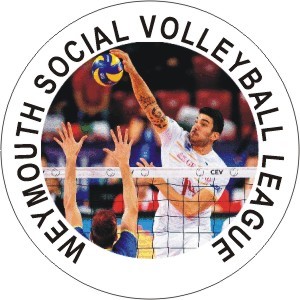 If you are interested in becoming a partner please
contact us
About WSV
We provide a COVID-19 friendly place where players of all standards can enjoy volleyball in a social atmosphere with friendly competition.
Latest Information

WSV – Junior Team Match Times
Although we have secured longer playing time for everyone, this does not help our junior teams, of which we now have three. The parents rightly want them home and reeady for school the following day. As a result we are rearranging the fixtures.
We are lookinng to the generosity of the adult team to appreciate this scheduling problem and play more late matches and to referree more matches. This is greatly apprciated by the WSV Organsiers on behalf of our junior teams.
Please take a look at the AMENDED FIXTURES for the period up to December. Further adjustments will be made later for the reest of thee season. Many thanks for your understanding and willingness to accomodate these young players.

WSV – League Format 2022/23
Due to a restructuring of the competition format in the 2022 / 23 League,  the first 5 games will not count towards the league programme. They will form the basis of the starting handicap which will, thereafter, be applied to all league games across both 1st and 2ndDivisions.
The league itself will start on 19th October 2022, with a revised fixture list, which will shortly be circulated. 

WSV – Match Timings
6.30 pm - 1st Group of Games - Practice / Skills / Training for Teams in 1stGames
6.50 pm - Start of 1st  Games - 3 sets of 20 mins
8.00 pm - 2nd Group of Games - Practice / Skills / Training for Teams in 2ndGames
8.15 pm - Start of 2nd Games - 3 sets of 20 mins
9.20 pm - Open Practice - Practice / Skills / Training - Optional for all Teams and Players