WSV - Welcome
Bringing volleyball to Weymouth on Wednesdays
This website is for "Weymouth Social Volleyball"
WSV - Website is ready for the 22/23 Season!
WSV's 22/23 Season will return to normal with a single league followed by an Open Tournament to bring competitive volleyball to as many as possible.
We welcome teams and players of any standard.
Team Application is now open open…. See below.
We have secured even more court time this year to allow more play for everyone.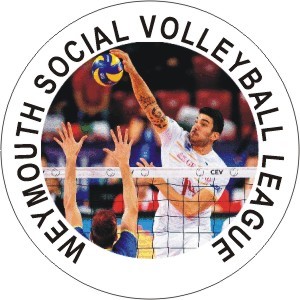 If you are interested in becoming a partner please
contact us
About WSV
We provide a COVID-19 friendly place where players of all standards can enjoy volleyball in a social atmosphere with friendly competition.
Latest Information

WSV – End of Season Tournament
Congratulations to Taborite who won the End of Season Tournament with Spike & Pillage coming a close second. See the full results here.

WSV – League Climax
A very tight set of matches were played on the last league evening last Wednesday. TeBeCe managed to clinch victory over Wezzaboys for the Div 1 trophy, were as Spike & Pillage couldn't manage to replicate their previous match against Waves Tsunami and were relegated.
Team ASM finally managed to win Division 2 to earn promotion to Division 1 leaving Wezzball to fight it out next season for promotion back to Division 1.
The improvement from all teams throughout the season has been staggering, particularly the Waves junior teams, Ripple and Wavelett. Ripple have also had players play-up into Tsunami at times.
Just the Tournament and the Presentation Evening to complete this season and it is on to next season starting in September 22.

WSV – Presentation Evening
Plan
This Season's Presentation Evening will be the Wednesday following the Open Tournament:
Date: 30 March 2022
Time: 18:30 for 19:00
Venue: The Gurkha
Address: Commercial Road, Weymouth, DT4 7TY
Cost >17: £12
Cost <17: £10 (Subsidised by WSV)
Presentations
The evening will consist of presentation of trophies followed by an all you can eat Asian buffet. The trophies will include:
Winners of Div 1
Winners of Div 2
Winners of Open Tournament
Most Valuable Player
Other Trophies ….
Cost
Team Captains are expected to organise attendance from their team, collecting monies from their attending players. If attending, please ensure to pay your team captain the correct amount this coming Wednesday (23rd March).