WSV - Welcome
Bringing volleyball to Weymouth on Wednesdays
This website is for "Weymouth Social Volleyball"
WSV - The website is ready for 23/24 Season!
WSV's 23/24 Season will be split into two half's. Each containing a Tournament to bring competitive volleyball to as many as possible.
We welcome teams and players of any standard.
URGENT - Team Applications are OPEN.
Apply below.
We have secured quality posts for the Centre court for this year to improve play for everyone.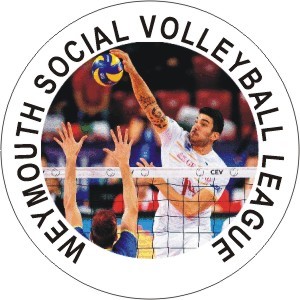 If you are interested in becoming a partner please
contact us
About WSV
We provide a friendly place where players of all standards can enjoy volleyball in a social atmosphere with friendly competition.
Latest Information

WSV – Open Tournament
This years Open Tournament will be as follows:
Date: Wednesday 22 Mar 2023
Team Representative to attend: 1800 for Tournament regulations clarification
Matches Start promptly at: 1830

WSV – Presentation Evening – 29 Mar 2023
This years Presentation Evening will be as follows:
Date: Wednesday 29 Mar 2023
Evening starts promptly at: 1830
Venue: The Gurka Restaurant
Cost per Person: Adults £15.00 / Juniors (16 and under) £12.00
Captains must provide numbers with collected monies to Serita Shone by this Wednesday, 22nd Mar 2023.