WSV - Welcome
Bringing volleyball to Weymouth on Wednesdays
This website is for "Weymouth Social Volleyball"
WSV - Achieving sport with pandemic precautions!
WSV's delayed 2020 season and 2021 season combined.
It is a little "different" due to COVID-19, but the organisers are doing their best to bring competitive volleyball to as many as possible.
We welcome teams and players of any standard.
More friendly competitive volleyball is here...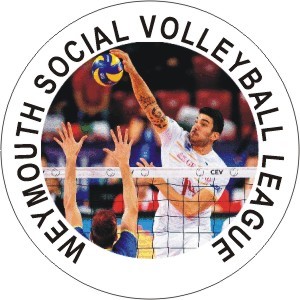 If you are interested in becoming a partner please
contact us
About WSV
We provide a COVID-19 friendly place where players of all standards can enjoy volleyball in a social atmosphere with friendly competition.
Latest Information

WSV – 2021 Season Starts Soon
Start Date
The WSV 2021 Season will start on 5th Jan 2022.
Team Lists
All teams are asked to verify their. Current team lists using the Team Application Form by the end of the first week of January 2022.
Draw
The has been completed and the Fixtures are up on the website. Please check when you will be required to Referee as well as when you are playing.
Thank you.

WSV – Policy Clarity
It has become necessary to iterate the policy described on the Team Application more clearly. So, it has been included within the main Policies page. Please read the Private Competition policy now included there and any other policy changes identified by Amber text. Many thanks.

WSV – The Winners are … TeBeCe
In a close fought match between the top two teams in the Division 1, TeBeCe came out on top to win the 2020 Season which has just completed. Congratulations also to Wezzaboys who win Division 2 and gain promotion to Division 1 for the 2021 Season starting on 5th Jan 2022.
Finally, commiserations to Wezzaball who are relegated to Division 2 in place of their youth team.
Good luck to everyone for the coming season.